Tattoo Artist Social Media: Showcasing Your Talent and Building a Client Base
Social media has revolutionized our lives, enabling us to share our experiences, thoughts, and perspectives with the world, whether they're interested or not. If you're reading this, it's because you're eager to start or enhance your social media presence as a tattoo artist. Don't be overwhelmed; we've all been beginners once, and there's always room for improvement.
For tattoo artists, social media platforms like Instagram, Facebook, and Pinterest offer a golden opportunity to showcase their artistic prowess to a vast audience. In the digital age, social media serves as modern word-of-mouth marketing.
Our skills are admired, commented on, and liked countless times, capturing the attention of fellow artists and potential clients alike. Regardless of whether you're an established artist or just starting out, mastering social media can rapidly attract an incredible number of clients, provided you know the right strategies.
Choosing the Right Social Network
While there are numerous social networks available, only a handful dominate the daily usage worldwide. Platforms like Instagram, Twitter, YouTube, and Facebook are the most popular choices. However, not all social networks are equally useful for tattoo artists.
As tattoo artists, we firmly believe that Instagram reigns supreme. Prioritizing your presence on the right social network is crucial. Research the social networks that align best with your career and explore the strategies that work well on each platform.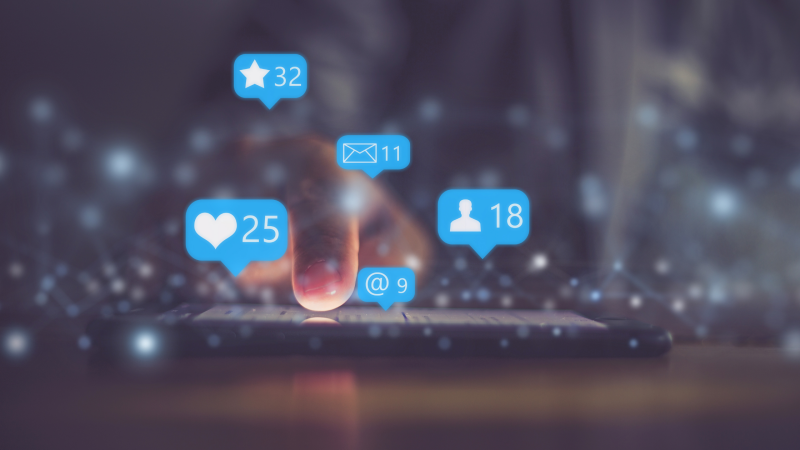 Instagram: The Ultimate Platform
It's hard to imagine a world of tattoo artists without Instagram. Its focus on image-based posts makes it the perfect canvas for showcasing your work. With over a billion monthly active users, social media has transformed into a powerful marketing tool for businesses across various industries.
For tattoo artists, Instagram stands out as one of the most effective platforms. Its visual nature allows you to exhibit your tattoo creations while utilizing relevant hashtags to reach a wider and more diverse audience.
When someone visits your profile, they can quickly grasp your artistic style and skill, enabling them to decide within seconds if you're the right artist for their needs. This rapid assessment capability can exponentially expand your client base, so it's essential to put your best foot forward.
Here are some key considerations:
Share high-quality content: High-resolution images give your profile a professional look. Investing in good photographic equipment is ideal for showcasing your pieces in the best light. However, if resources are limited, consider purchasing second-hand cameras or utilizing a mobile device with a decent camera to get started.
Utilize hashtags effectively: When posting your work, incorporate as many relevant hashtags as possible. Properly tagging your content significantly boosts your chances of gaining new followers.
Learn from similar artists: Explore tattoo artists with a similar style and observe the hashtags they employ. This will provide insights into the most popular hashtags and help your work reach a broader audience.
Optimize your account as a business profile: Ensure you have a business account instead of a personal profile. This allows you to understand your audience and identify their active hours. Posting during these time slots increases the likelihood of receiving more likes and staying at the top of your followers' feeds.
Create a unique hashtag: While it may seem insignificant at first, establishing your own hashtag is an effective way to build brand recognition. Encourage your clients to use your hashtag when sharing photos of their new tattoos, attracting more people to your profile.
Tag popular profiles: Numerous pages showcase tattoos from various artists. Tagging your work can lead to the page sharing it with their followers. These pages often focus on specific tattoo styles and boast substantial followings, many of whom may visit your profile.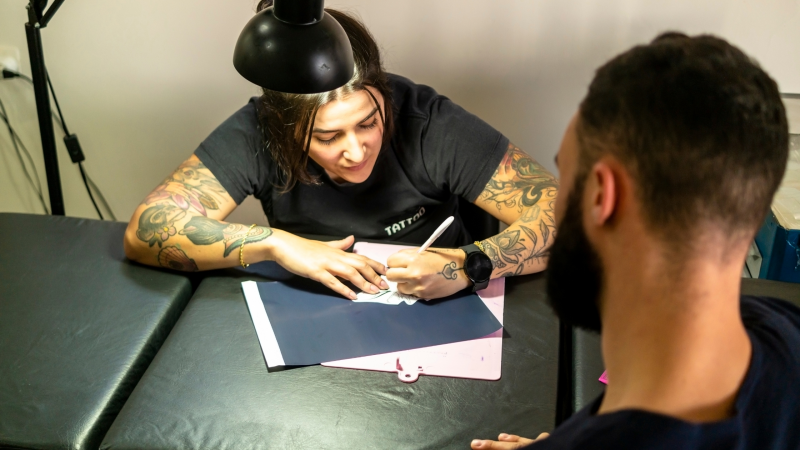 Facebook: Another Avenue for Local Reach
While not as essential or popular as Instagram, Facebook can serve as an additional channel to connect with local customers.
Create a business profile on Facebook and provide all the necessary information, ensuring potential customers know your availability schedule and location.
Keep in mind the following:
Resize your images: Different social networks have varying image resolution requirements. Facebook, for instance, compresses photos to the point of distortion. Ensure your images are optimized accordingly.
Leverage the Stories feature: Both Facebook and Instagram offer the Stories feature, enabling you to publish posts and share updates about your work. Stories are an effective way to display content that might otherwise go unnoticed by your followers.
Utilize videos for personal connection: Use videos to present your message and opinions in a captivating manner, establishing a personal relationship with your audience.
Tattoodo: A Community for Tattoo Enthusiasts
Tattoodo, much like Instagram, provides a platform for fans and tattoo artists to showcase their best work. Artists can utilize it as a portfolio to attract more customers.
The app's interface focuses on making tattoo photos stand out. Additionally, it offers sections such as "Today's most popular tattoos" and a tattoo search engine with style filters.
Another valuable feature of Tattoodo is its ability to help people find tattoo studios near their location.
Interacting with other users' posts through likes and comments is also possible, making it an appealing social network specifically designed for the tattoo community.
Increasing Your Follower Count
As with any social network, your exposure in the artist community can be measured by the number of followers, likes, visits, comments, and ratings you receive.
The more followers and likes you have, the greater the visibility of your work. This opens doors to interacting with more artists and receiving a wide range of opinions and advice that can fuel your growth and development.
Having a substantial following and likes also enhances your business prospects. If you intend to utilize social media primarily for personal purposes, witnessing people checking, liking, and commenting on your work can be a great motivator.
However, resist the temptation to purchase followers on any social network. It's evident when an account has thousands of followers but little engagement or fake interactions.
Buying followers not only drives away potential customers but also tarnishes your reputation within the tattoo industry. Instead, focus on organically building an audience through consistent, high-quality content. 
So, how can you expand your Instagram follower count?
Post consistently: With an overwhelming amount of content being uploaded daily, posting regularly is crucial to ensure your work doesn't get lost in the sea of posts. Gradually increase your follower count and likes by maintaining a steady posting schedule. Capture your audience's attention gradually and steadily.
Engage with other artists: Actively like and comment on other artists' posts, expressing your admiration for their work. This can prompt them to visit your profile, leave a like or comment, and perhaps offer useful tips or tricks to enhance your craft.
Optimize image sizes: Familiarize yourself with the image size requirements of different social media platforms. Before posting new work, ensure the images are properly resized for each platform, creating a polished presentation.
Harness the power of relevant hashtags: Effectively using hashtags can significantly expand your reach. Research and employ hashtags relevant to your work and target audience.
In Conclusion
Social media presents tattoo artists with an extraordinary opportunity to exhibit their portfolios and engage with a broader audience. It allows professionals in the industry to connect on a more personal level and opens doors to inspiring others through their work.
Become a source of inspiration and a figure others aspire to follow. Establish a consistent posting schedule, selecting a platform that suits your needs and capabilities. Start with a simple posting routine and gradually increase your level of consistency.
By following these tips, you can create a visually appealing platform that attracts clients. You'll be amazed at the number of clients you can attract through social media platforms while
Get more revenue, clients and followers: Free E-book '7 proven Instagram techniques'
Our social media coaches have bundled the best 7 techniques they use in coaching our clients all over the world. We see artists reach their goals, go and tattoo fulltime, upgrade their hourly/session rate and expand their reputation all by using these 7 proven techniques. Get your e-book for free right here!