How do you market your tattoo shop?
You've set up your tattoo shop, and put your time, resources, and energy into it. But you're struggling with the most important part: getting clients!
According to IBIS World, 46% of Americans have at least one tattoo. The industry, including body piercing and tattoo removal, is estimated to be worth around $3 billion.
With such a huge market and audience, you begin to wonder how do I market my tattoo shop to score more clients? Tattoo shop marketing strategies can be difficult to form and plan for, but building a stable client base is every service-based business owner's dream. But dream on because we've got the best tattoo shop marketing strategies for you.
In this age of the internet and networking, you must be able to appeal to the consumer's needs. You need to spend time and energy learning how to market your business so as to be the "one" for your customers.
So let's get right to it! Here's a list of tattoo shop marketing strategies we are going to cover in this blog:
1. Get active on your social media platforms
2. Get listed on Google My Business
3. Invest in print materials and merchandise
4. Increase the value of your offer
5. Be more than just a tattoo parlor
6. Add credibility to your business with a website
7. Create new and captivating content
8. Don't forget to step out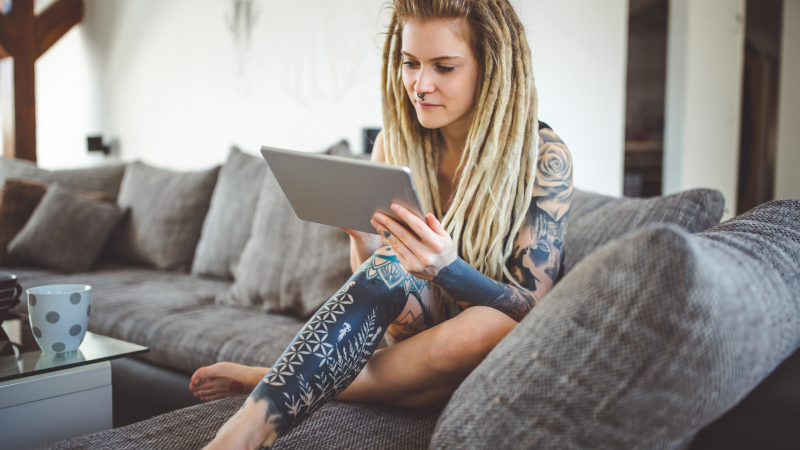 1. Get active on your social media platforms – Instagram and Facebook
Social media marketing is the X-factor in today's business world. It enables you to cover a vast domain with minimum resources being engaged. Here are some tips for nailing tattoo marketing on these channels:
- Set up your profiles and fill in key details like location, open hours, and contact information. Personalize your page by adding your branding and logo. Don't forget to include your website link in the bio!
- Upload engaging and aesthetic photos of your studio, both interior and exterior, as well as pictures of customers getting tattoos.
- Utilize Reels on Instagram to increase your visibility and reach by tapping into trending content.
- Post client testimonials to increase your credibility and authority.
- Keep posting appealing content consistently to attract new clients and keep existing ones engaged. Consider adding a "Book Now" button on your pages using a tattoo studio booking software.
Need some help finding the best strategies for your Instagram account? Check out our free e-book '7 proven Instagram techniques'. 
DOWNLOAD THE E-BOOK FOR FREE >>>>>>
2. Get listed on Google My Business
Google is the go-to search engine for everyone looking for something. Getting listed on Google My Business (GMB) ensures your tattoo studio is visible and shows up on related searches. You can also convert your GMB listing to a booking engine with Reserve with Google, enabling clients to book sessions directly from Google Search, Maps, and the RwG website.
Additionally, get listed on free online directories like Yelp, Foursquare, Finduslocal, and tattoo studio-specific directories.
3. Invest in print materials and merchandise
Your work and products are a walking billboard, so promote your tattoo business in a stylish way. Incorporate promotional items and merchandise into your tattoo shop marketing plan. These can include clothing items like T-shirts and hoodies featuring your branding and designs, as well as wearables like caps and beanies. Giving away free goodies like wristbands and posters to new customers can also increase brand popularity.
Consider investing in print materials like flyers/leaflets and business cards to promote your shop, new offers, and upcoming events.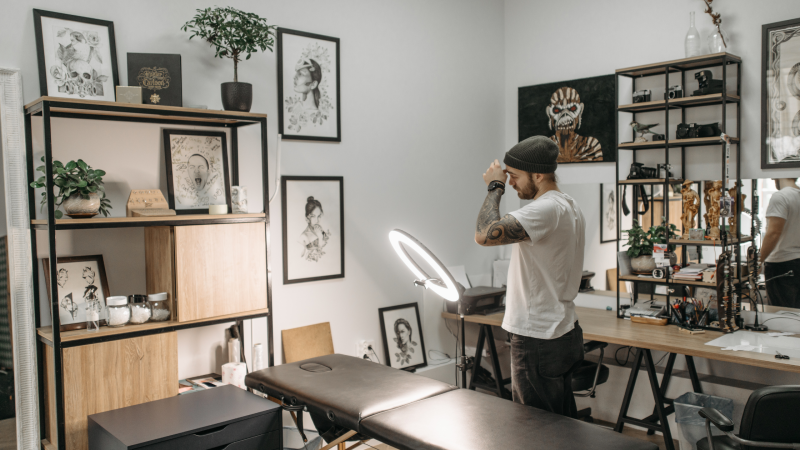 4. Increase the value of your offer
"Free" is a powerful word that attracts customers. Enhance your offers by including a free item when customers make a purchase or appointment. For example:
- Offer an extra hour free for long sessions.
- Provide a gift card worth a certain value for customers who buy an item from your merch store.
- Give away a free poster with every aftercare product.
- Ask for customer recommendations and offer a referral bonus, such as a free shirt or aftercare product with their next tattoo.
Implement loyalty cards or membership cards to ensure customer retention, and consider organizing tattoo giveaways to increase your popularity. And don't forget.. make it an unforgettable positive experience.
5. Be more than just a tattoo parlor
Expand your services to attract a wider range of customers. Offer additional services such as tattoo aftercare products, temporary tattoos for those not ready for a permanent commitment, tattoo removal/alteration, and piercings. Providing these services in your studio saves customers from having to look elsewhere.
6. Add credibility to your business with a website
Having a professional website for your tattoo business increases your credibility and allows new people to discover you. Ensure your website showcases your style through branding, photo galleries, and artist portfolios. Include testimonials from previous clients, a contact form for lead generation, and links to your social media handles. You can also sell merchandise on your website to create a sense of belonging for your clients. Implement search engine optimization (SEO) to improve your website's visibility and reach.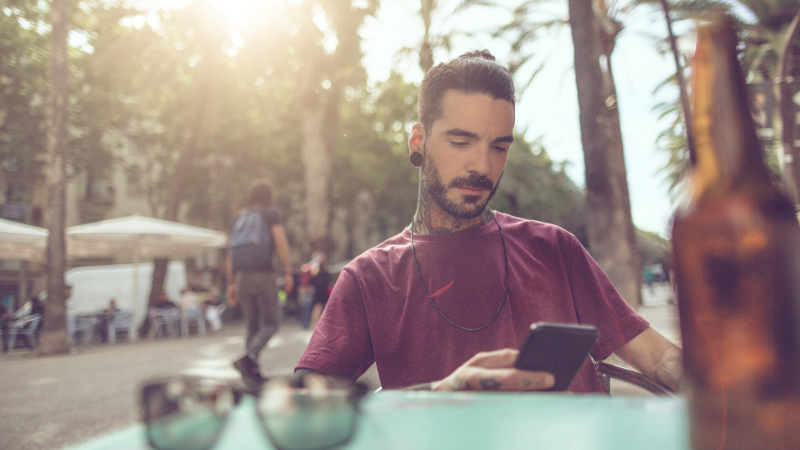 7. Create new and captivating content
Harness various channels of content to promote your tattoo shop. Visual content, especially on platforms like YouTube, creates a significant impact. Create artistic videos showcasing your designs, publish blogs and articles on your website to engage with customers, and participate in interviews or podcasts to reach new audiences.
8. Don't forget to step out!
Participating in industry events like tattoo trade shows, conventions, and industry events can be an excellent way to showcase your work and expand your customer base. Networking with others in the industry and reaching potential customers can greatly benefit your business. Join and engage in relevant communities and forums to stay connected with customers, fellow business owners, and tattooists.
Conclusion:
Incorporating multiple marketing strategies and being consistent in your efforts will help your tattoo business grow. Take the time to plan and execute your marketing strategies, and have faith that your efforts will pay off. Marketing doesn't have an on/off switch. It needs time to develop and you need time to learn and find your way. 
Are you kind of impatient or do you want to get to your goals as quickly as possible? Give us a shout and we'll talk about getting to where you want to be in the shortest amount of time possible.